App Controlled Sensory Rooms
Technology is always evolving. Opening up new possibilities and solutions. Sensory Technology - as the name suggests, likes to try and keep up to date with the latest developments.  Both sourced externally from Partners or In-House through our own development team, we are always looking to extend the boundaries of what we can offer. Our App Controlled Sensory Rooms are an example of just that, helping to create Interactive Learning Spaces.
Care has to be taken that the investment you make will be properly managed to ensure you receive full value from your money.  We have tried to keep things as simple as possible - especially for how complex some systems can actually be.  Integrating multiple types of technologies to provide a tailored learning experience which will truly benefit your clients and takes the traditional sensory room to new heights.
Apps are now a part of everyday life - and it only makes sense for them to now be used in education settings to create. Our systems can be simple controls on the device triggering items within the room through to full theme control of media projection, sounds, lighting and fragrancing.  This all depends on what you are trying to create and how you go about achieving those goals.
We will happily look to see if our Interactive Learning Solution are suitable and if so, we will provide a Free Design and Proposal of the system based around your requirements and budget.  We will make we create an engaging, educational and fun setting that will be a real resource.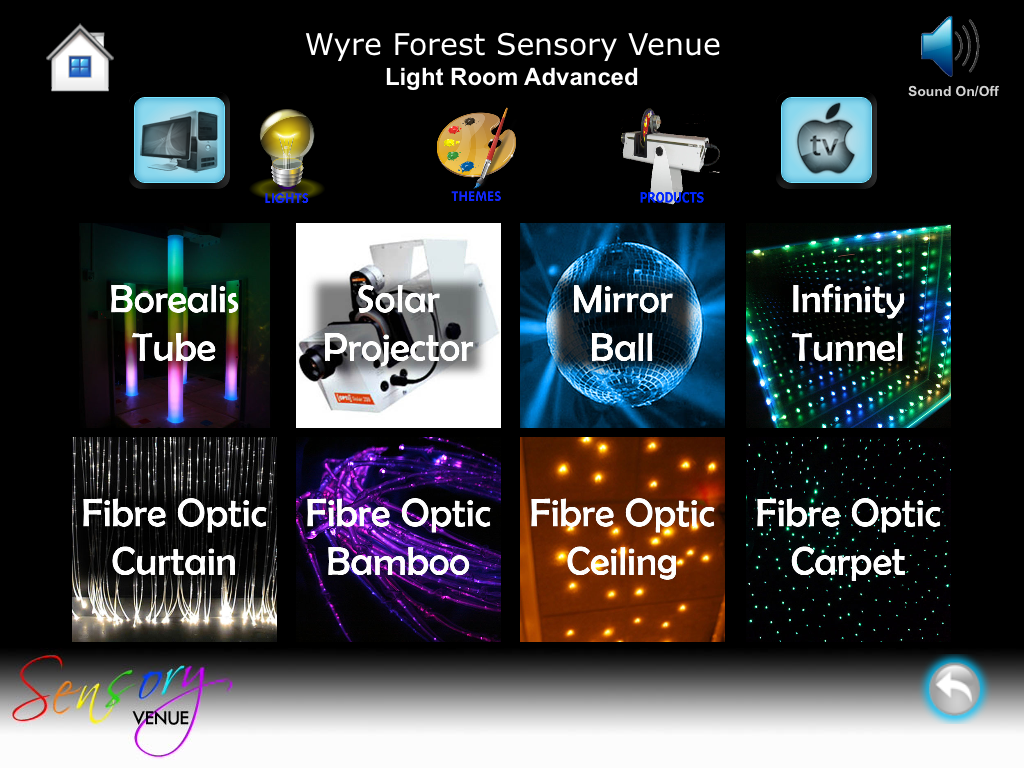 Standalone
Simple App Controlled Sensory Rooms.  Where the app is the room controller, allowing both supervisor control and user interaction.  Control RGB LED colour mix lighting and scanning beams along with simple on and off control for plug and play effects.  Can also control music and media functionality.
Integrated
If the installation includes a wide range of more advanced products such as Borealis Tubes or Infinity Panels, we can integrate the control of these into the App.  You only required the Device and hardware with no external computers.  Great mid ground for your Interactive learning spaces.
Themed Control
Use the App as a remote control, allowing media and themed work for more curriculum-based learning. This system works with the addition of a PC based controller for programming themes and sequences and can also incorporate functions for Sensor Floor - our interactive projection floor.
We Are Here to Help
Enter your details for a free design consultation