In this week's edition of Sensory Spaces, we're exploring all things Calming Sensory Rooms. 
What is a Calming Sensory Room?
Calming Sensory Rooms are spaces designed to induce a state of calm, through the incorporation of sensory elements.
These environments act as a quieter recluse to help users to regulate their emotions and achieve a higher level of productivity.
Calming vs. De-escalation
You may have heard of both Calming Rooms and De-escalation Rooms, which hold a lot of similarities, but what is the difference between the two?
(pictured left: calming sensory room / pictured right: de-escalation room)
Calming Sensory rooms = specially designed for users who would benefit from a relaxing, quieter space away from overwhelming and distracting environments. This environment can also assist in reducing stress and anxiety within users.
Typically includes sensory features such as mood lighting equipment and sounds to help set the desired mood. Sometimes interactive sensory features can be incorporated into Calming Sensory Rooms such as borealis tubes or interactive LED panels, which contribute to the calming atmosphere whilst providing a stimulating distraction. 
De-escalation rooms = specially designed spaces for users to access when they are in a heightened emotional state and need a safe space to de-escalate, whilst avoiding harm to themselves or others.
Typically includes floor, wall, door and window padding to help provide protection to users and reduces the chances of injury when they are emotionally escalated. Can also include technology such as mood lighting and sounds which can assist the calming process.
Who would access a Calming Sensory Room?
Calming Sensory Rooms are most commonly used, but not limited to, individuals with:
Although they are all different from each other – one of the great aspects of calming sensory rooms is that they can be tailored to specific users, needs and abilities.
For example, for a user with Autism, they may be experiencing sensory over-stimulation resulting in a feeling of distress, anxiety or lack of focus. Accessing a Calming Sensory Room allows them to step away from that scenario, regulate their sensory input and return to a calmer state.
Where would you find a Calming Sensory Room?
Calming Sensory Rooms are often found in schools and facilities that support adults and children with additional needs.
However, it is becoming more common for them to be included in mainstream schools to facilitate students who need additional support and even community spaces such as leisure centres, play areas, airports and shopping centres.
What would you find in a Calming Sensory Room?
As the focus within a calming sensory room is to provide respite and relaxation, there are various sensory elements that are commonly incorporated. Let's take a look at a few.
The most common feature that you would find within a calming sensory room is padding. This is not only for comfort, but for safety too.
Typically, the elements that are padded are the walls, floors, doors or seated objects. Depending on the required needs of the users, all of these padded features can be customised. For example, varied heights and widths of padding or varied shapes and sizes of seating.
Mood lighting is another popular feature of Calming Sensory Rooms that helps to achieve the desired atmosphere for users. Mood lighting can come in various forms, colours and intensities.
As explored in our colour therapy research, colours can have a strong influence on individuals moods and mindsets. This can vary depending on the needs of the users, which is why we provide a range of colours that can be adjusted via a control panel to regulate the mood – depending on each user.
For example, warm colours such as orange or yellow provide a high level of stimulus which is ideal for individuals who experience hyposensitivity (lack of stimulation). However, because of this intensity it would not be ideal for individuals who experience hypersensitivity (sensory overload).
The third common feature of Calming Sensory Rooms is audio. Just like mood lighting can provide relaxation visually, music or sound effects can contribute to this desired state using the auditory senses.
Within Calming Sensory Rooms, the audio devices are typically built into the room and can be controlled by the supervisor, in order to have influence over the mood they wish to create. Elements such as sound can also be controlled to ensure that the levels of noise are played at a volume that is comfortable for each user of the room. 
Through Bluetooth Connectivity, supervisors can have further control over the choice of audio and select playlists of songs that are familiar and favourable to users – contributing to the calming environment with sounds that they know and enjoy. 
What are the key benefits of Calming Sensory Rooms?
To finish off our exploration of Calming Sensory Rooms, let's sum up our top 5 benefits.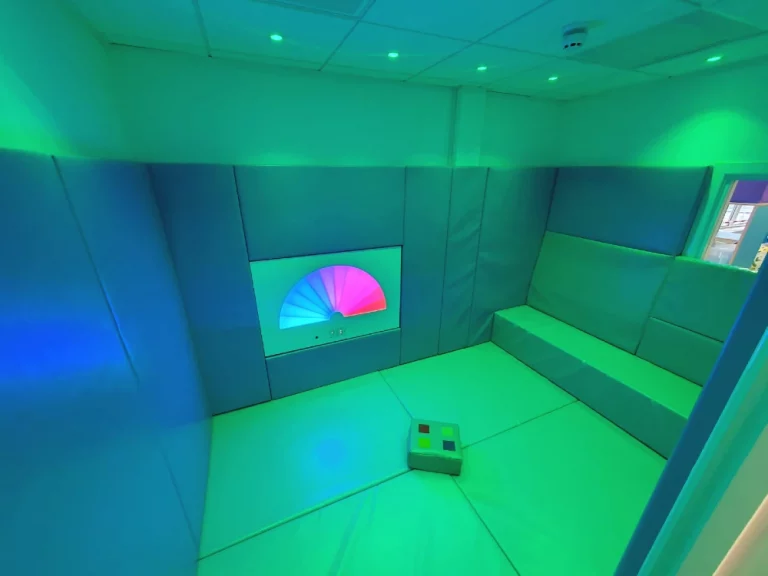 Overall, Calming Sensory Rooms are a fantastic and much needed safe space for individuals with a wide range of needs and abilities to access.
These environments are incredibly effective in proving an escape from the stress of outside environments and allowing users to self-regulate and return to a calmer state of mind at their own pace.
For more information on Calming Sensory Rooms, contact one of the team today.