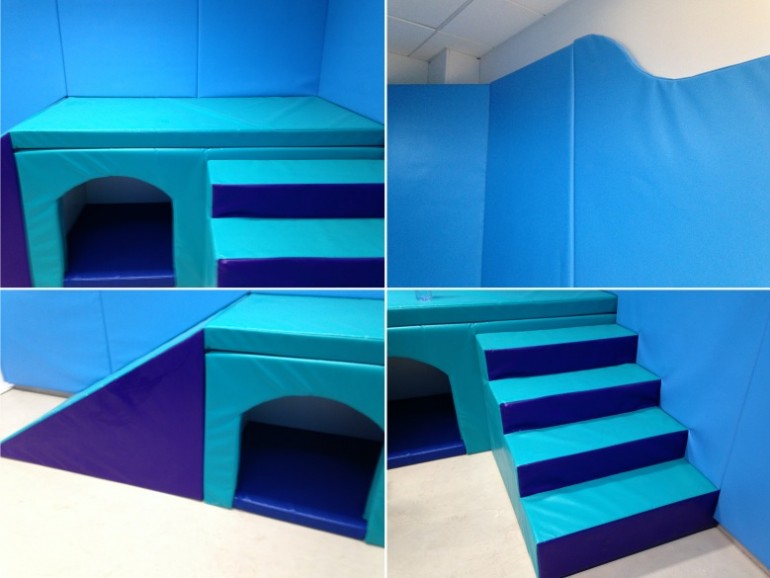 A Soft Play Room installation South Wales, Carmarthenshire for Ysgol Bro Dinefwr, was designed and installed at their Secondary School early this year.
The room was designed to create a great rebound area for the children. It has been created to be completely low tech as requested by the school. We was asked to focus our design purely on movement therapy. We also included a Calming Room with a secured bench seat and padded walls, door and floor for complete chill out safety.
The products installed within the Soft Play Room installation South Wales to achieve their remit was:
Steps, Podium and Slide – This was a great addition to the soft play room as it has provided the children with many challenges and rewards. The children can climb to the top of the podium to watch all their friends playing and then slide back down to join them. This soft play build also has the added bonus of a den underneath the podium. The children like the idea of being able to take time out and just chill when they required a rest.
Mangle – This soft play item is great for the children's journey as it challenges them to see if they can squeeze through a small space. It is a sturdy wooden structure which is covered in soft play material to ensure safety. The rollers in the mangle work on a ball mechanism so they rotate when the children move through the mangle.
Wall and Floor Padding – The walls within the room are padded up to a height of 2 metres. Higher in the location of the climb up to the podium for safety. The walls are covered in 50 mm thick pads with vinyl covers to match the rest of the room. The padding has a foam inner with reinforced vinyl covers to ensure durability. We used thicker 75 mm pads with vinyl covers to match the rest of the room for use on the floor. This is held in place with Velcro strips which make it easy to remove should cleaning be required. All our wall and floor padding is produced to order in-house, so can we can  manufacture in any colour.
The finished play room provided a very safe environment and was a total hit with the children….